We are already a month into the new year and a lot has happened in a short time.
Australia has been devastated by bushfires, China is struggling with Coronavirus outbreak, the Trump impeachment is ongoing and legendary basketball player Kobe Bryant died in a helicopter crash.  It does seem like non-stop apocalyptically bad news.  Add in all the financial stresses and family tensions brought on by Christmas and emotional well-being is unsurprisingly low.
It may only be small consolation but there is good news on the financial front.  The Sydney property market is recovering and the Australian All Ordinaries sharemarket index hit a new record high on 22 January, finally eclipsing the previous record set in October 2007.  The full cost of the fires, storm damage and loss of tourist revenue will not be know for some time but is not expected to have a big impact.
Sadly the political front is going sour.  We are having a re-run of the sports rorts affair.  On 28 February 1994 Federal Sports Minister Ros Kelly resigned after it was revealed she had allocated $30 million of community sports funding to marginal electorates.  She famously used a white board to keep track of the allocations. The Auditor-General reported that no permanent records explaining the rationale for funding decisions were kept. See https://en.wikipedia.org/wiki/Sports_rorts_affair
Given that precedent it is hard to see how Bridget McKenzie will survive as a minister.  In addition to the above she also granted funding in cases where herself and her ministerial colleagues had personal conflicts of interest.  There are many people who missed out on funding who are now upset with this process.
It is a bitter irony for the Financial Planning industry given that the government legislated a mandatory code of ethics for us that started on 1 January.  We are legally obligated to act with integrity and prohibited from acting where we have conflicts of interest.  See https://www.fasea.gov.au/code-of-ethics/
As part of this package Financial Advisers are required to pass an exam testing their knowledge of our regulatory environment and upgrade our qualifications.  I am pleased to advise that I have already passed the exam and my Ethics & Professionalism university subject.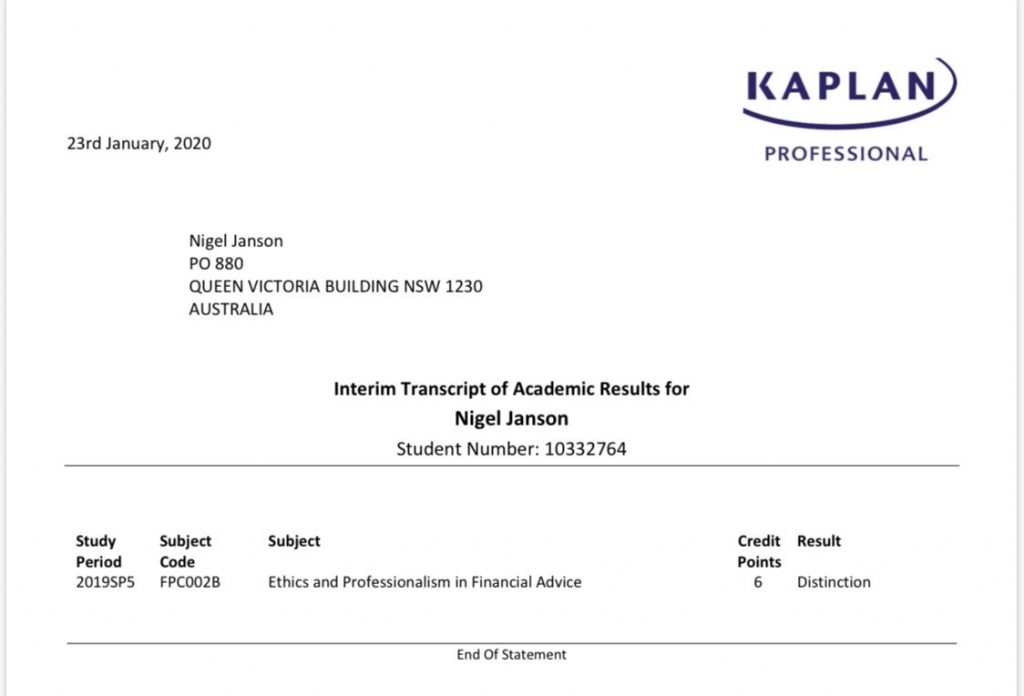 So I have now met all of the requirements to retain my Financial Adviser Registration.  I am currently reading the book Crime and Punishment now and it is easy to see that the huge regulatory burden is being placed on us now because of our failure to prevent bad consumer outcomes previously.
While it's impossible to prevent people from losing money or being disappointed the goal in future is to ensure that consumer outcomes are better.  It will be a painful year for the industry as we adjust to a new regulatory burden and loss of conflicted revenues, we will be better and stronger in future.
It's good to know that the standard of advice being given across the industry will improve going forward and that clients can have confidence that they will be treated fairly. There are very few other industries that will have the same high standards of integrity.