Last week the reserve bank made a decision to reduce the official short term interest rate from 1% down to 0.75%.
Changes to interest rates are intended to stimulate the economy when growth is too low and unemployment is too high or cause it to contract when inflation is too high.
Low interest rates are intended to encourage business and consumers to borrow money to invest or spend it.  However rates are now so low that it is possible that any further reductions will have little impact.
The national accounts for the June quarter how now been released showing that the economy grew by 0.5% in the June quarter and only 1.4% for the 2018/19 financial year.  These are the equal lowest results since the year 2000.
The federal government budget is expected to be in a surplus this year but it now seems that government stimulus will be required to boost the economy.
Do we need to worry?
Will this cause the sharemarket to crash?
The good news is that you don't need to worry and by itself this news will not cause a sharemarket crash.
The bad news is that term deposit rates are going down and your income might reduce as a result of this. It might be necessary to review your investment strategy to ensure that you can continue to generate the returns and cashflow that you need.
Market returns to 30 September 2019

Despite recent turmoil in the sharemarket overall returns have been good to date.
Return expectations
The investment company Schroders has conducted a survery of investors expectations for the returns from their portfolios over the next 5 years.
The results are summarised here: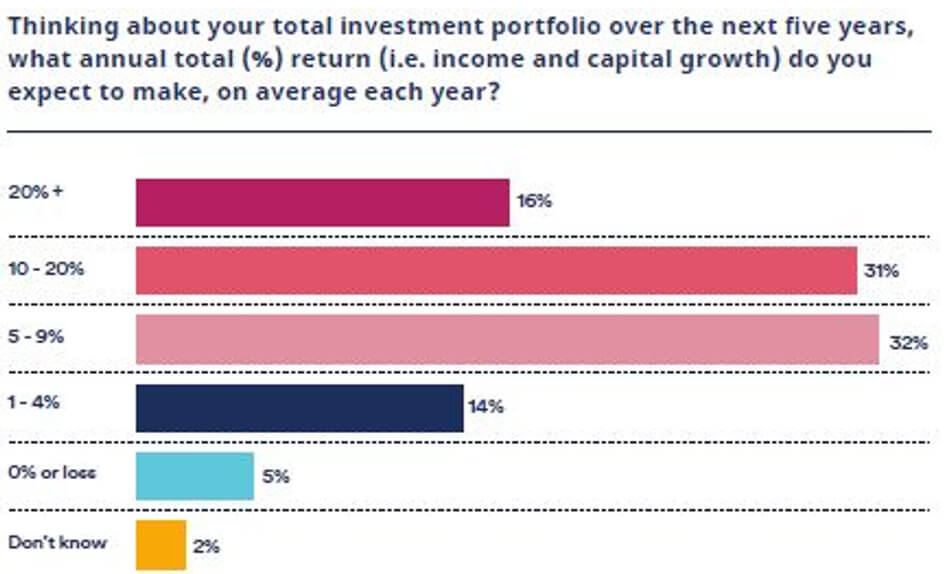 Approximately half of investors expect a return of more than 10% and other half less than 10%.
Given that the average return over the last 5 years has been approximately 10% these results are not surprising.  It is common for people to extrapolate their most recent experience and assume that it will continue.  Unfortunately that doesn't make it a realistic expectation.
The 5 years from 1 July 2007 to 30 June 2012 had an average annual return of -5% (yes, a total loss of more than 20% over 5 years).  Given that interest rates are now barely above zero it is likely that investment returns for most people will be significantly lower than 10%.
We don't know what the next 5 years will look like but it's important that you have a plan so that your financial goals can be achieved no matter what the markets do.